Paint Markers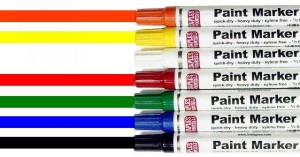 Staples Paint Markers are real oil-based paint to make permanent markings on hard to mark surfaces such as metal, glass, plastic, and fabric. Great for industrial, commercial, and crafts uses.
Paint Markers work well on metal and PVC pipe, glass block, plate glass, woodwork, and canvas. They are also great for stone, posterboard, cardboard, and corrugated cartons. Use Paint Markers for just about any work or crafts project. The bright primary colors stand out and last longer than regular crayons and markers.
Unlike ordinary marking pens, a special valve feeds stain to the marker tip only as needed, allowing control of the flow. The valve also seals off the reservoir in the barrel and prevents the marker from drying out.